Wilson Lecture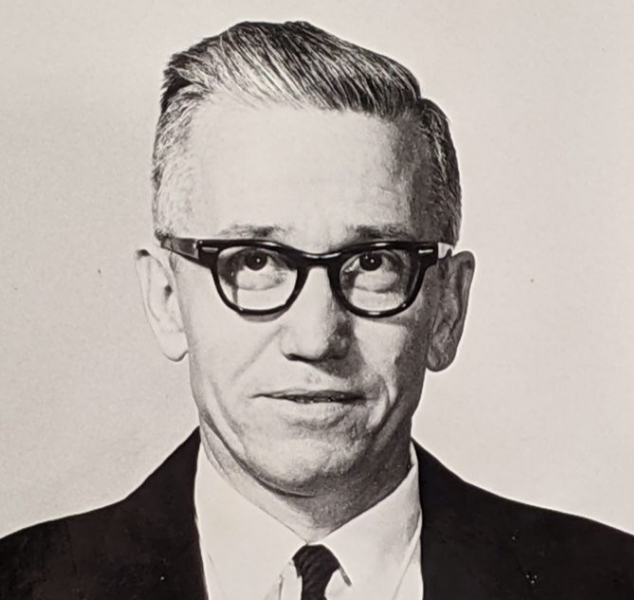 About the Leland Wilson Lectureship
Professor Leland Wilson, as first department head and professor in the Department of Chemistry for more than 20 years, left a legacy of professionalism and integrity that the faculty and staff in the department continue to sustain.
The Leland Wilson Lecture Series was initiated in 1997 by colleagues, family, and former students to honor Professor Wilson's many contributions to the Department of Chemistry and the University of Northern Iowa community.
In July 2007, Dr. Mary Sue and Ken Coleman made a generous donation of $100,000 to fully endow this lectureship and ensure its continual funding. Dr. Mary Sue Coleman is Professor Wilson's daughter and is currently serving as the president of the Association of American Universities.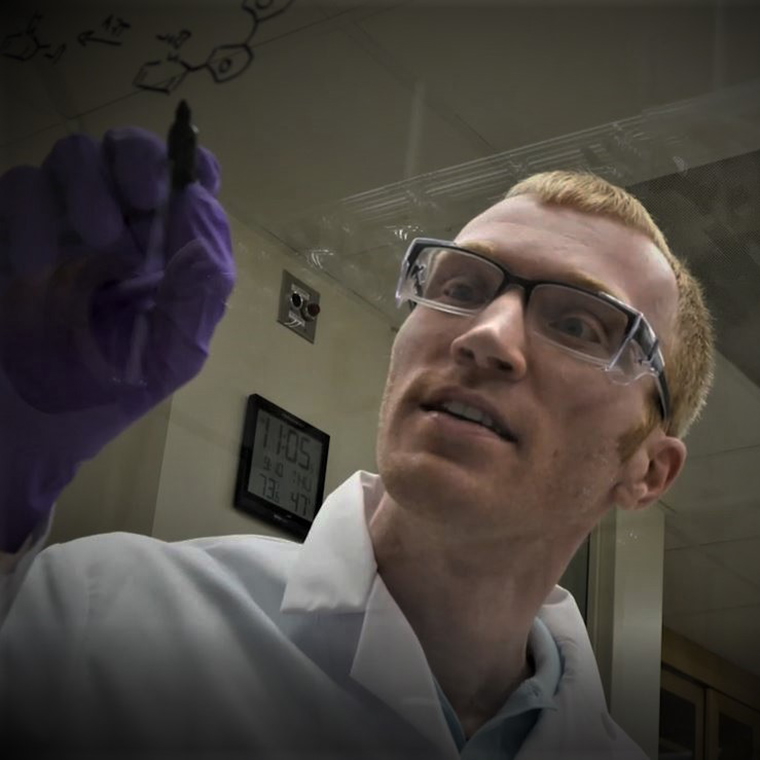 2022 Lecture
On November 3, 2022, Dr. Patrick Fier, Principal Scientist at Merck, presented a lecture titled "The Importance of Organic Chemistry in Developing New Medicines."
Dr. Fier is a Principal Scientist at Merck and led the effort to develop molnupiravir to treat SARS-CoV-2.
After completing his BS degree in Chemistry at UNI, Dr. Fier joined the lab of Dr. John Hartwig and completed his PhD from University of California at Berkeley. He then joined Merck & Co. where he developed several new techniques for making medicines.
In 2021, the American Chemical Society recognized Dr. Fier as one of its Talented 12, identifying him as a "manufacturing magician" who creates chemical transformations to scale up drug syntheses. The Talented 12 recognizes early career chemists doing research that has global impact
Professor Leland Wilson, a native of Kentucky, joined the UNI faculty in 1955. Prior to coming to UNI, Wilson was a high school science teacher in Kentucky and Florida.
During his 24 years at UNI, Wilson taught physical science and chemistry, becoming an expert in a number of newly emerging instrumental techniques, including nuclear magnetic resonance spectrometry. He was the first department head of the newly formed Department of Chemistry in 1968, and served in that capacity until 1975. He retired as professor of chemistry in 1979, and passed away in the summer of 1993 at the age of 79. With an infectious smile and an easy-going style, Wilson was able to motivate even the most reluctant students to expect more of themselves.
If you would like to contribute to the Leland Wilson Scholarship Fund, please contact:
Dr. Bill Harwood, Head
Department of Chemistry & Biochemistry
University of Northern Iowa
Cedar Falls IA 50614-0423
Telephone: 319-273-2052
E-mail: bill.harwood@uni.edu 
The Leland Wilson Lecture Series:
2022-2023
Patrick Fier, principal scientist at Merck
2021-2022
Dr. Greg Smith, Otto N. Frenzel III Senior Conservation Scientist at the Indianapolis Museum of Art at Newfields
2019-2020
Dr. Eric Scerri, Professor, Department of Chemistry & Biochemistry, University of California, Los Angeles
 
2018-2019
Dr. Jennifer Stern, Space Scientist at NASA Goddard Space Flight Center, Greenbelt, Maryland.
 
2017-2018 
Dr. Auriel A. Willette, Assistant Professor of Food Science and Human Nutrition, Psychology, and Biomedical Sciences at Iowa State University.
 
2016-2017 
Dr. Annette Richards, Professor of Music and University Organist at Cornell University, and Dr. Catherine Oertel, Associate Professor in the Department of Chemistry and Biochemistry at Oberlin College.
 
2015-2016 
Dr. Kimryn Rathmell, Director of the Division of Hematology and Oncology and Professor of Medicine at Vanderbilt University.
 
2014-2015
Dr. Shawn Domagal-Goldman, NASA Goddard Space Flight Center.
 
2013-2014
Dr. Paul Kelter, award-winning teacher and researcher in Chemistry Education.
 
2012-2013
Dr. Melanie Sanford, Arthur F. Thurnau Professor of Chemistry at the University of Michigan
 
2011-2012
Dr. Harry B. Gray, Arnold O. Beckman Professor of Chemistry and Founding Director of the Beckman Institute, California Institute of Technology.
 
2010-2011
Dr. R. Graham Cooks, Henry B. Hass Distinguished Professor of Analytical Chemistry, Purdue University.
 
2009-2010
Dr. John Warner, President and Chief Technology Office Warner/Babcock Institute for Green Chemistry.
 
2008-2009
Dr. Richard Zare, Professor of Chemistry, Stanford University
 
2007-2008
Dr. Geri Richmond, Professor of Chemistry, University of Oregon
 
2006-2007
Dr. Paul G. Wenthold, Associate Professor, Purdue University
 
2005-2006
Dr. Charles D. Huss, Staff Emergency Department Physician, Mercy Hospital, Iowa City
 
2004-2005
Dr. Nancy Wilson Ashbach, M.D., M.B.A., Professor of Health Policy, University of Denver, Family Physician
 
2003-2004
Dr. John Talley, Microbia, Inc
 
2002-2003
Dr. Becky Lewis, E.I. DuPont de Nemours & Co. Inc.
 
2001-2002
Dr. M. Dale Hawley, Professor of Chemistry, Kansas State University
 
2000-2001
Dr. Steven M. Heilmann, Corporate Scientist, 3M Corporate Research
 
1999-2000
Dr. Mark J. Kurth, Professor of Chemistry, University of California, Davis
 
1998-1999
Dr. Robert D. Koob, President, University of Northern Iowa
 
1997-1998 
Dr. Mary Sue Coleman, President, University of Iowa