Student Organizations
Get Involved – Join a Club!
Joining a student club or organization is a great way to get involved. You'll meet people who share the same interests – building lifelong friendships – while gaining professional experience, and honing your leadership skills.
Our department is home to an award-winning student chapter of the American Chemical Society. This club gives students interested in chemistry or related fields an opportunity to increase their knowledge of the field, explore career possibilities and interact with chemistry professors and other students with similar interests.
Outstanding Chapter Award Received.
UNI's ACS Student Affiliate Chapter has received an Outstanding Chapter Award for 2011-2012, 2012-2013, 2018-2019, 2019-2020.
"This chapter was extremely successful at promoting chemistry in their school and sharing their love of chemistry with the local community. This concern is evident by the number of chapter meetings they scheduled to appropriately advance their activities. This will go a long way in encouraging young people in northern Iowa to consider chemistry as a career. Furthermore, the chapter is well funded due to university support of student travel to meetings and a couple of smaller grants. It appears to me that if your chapter wants to do something, you find the resources and get it done. Excellent job!" - ACS Faculty Advisors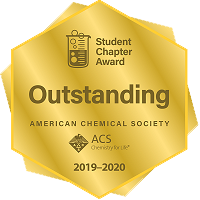 Meet the Student Affiliates of the American Chemical Society.
2022-2023 Officers:
Co-Presidents: Emma Bopp and Megan Unger
Vice President: Tatiana Barriga
Secretary: Maddy Waters
Treasurer: Emma Gardner
Social Chair: Jacqueline Heggen
Advisors:
Dr. Martin Chin
Dr. Colin Weeks
Each year, the UNI Chapter of the ACS helps organize the annual Halloween House. This community outreach and engagement event brings hundreds of local children to McCollum Science Hall to showcase UNI's science departments. During the event, students perform Halloween-themed science demonstrations and supervise hands-on activities in rooms such as the "Pirates' Cove", "Frankenstein's Lab", "Creepy Crawlies" and "Triassic Terrors".
ACS Activities:
Fall
Student and Faculty BBQ
National Chemistry Week Activities: Halloween House
Family Weekend Magic Show
Student and Faculty Holiday Party