Pre-Occupational Therapy: Biology Track
Bridging education and medicine through occupational therapy
The field of occupational therapy offers a challenging yet rewarding career path, centered around one goal: improving the lives of patients by helping them live healthy and active lives.
Occupational therapists treat injured, ill, or disabled patients through the therapeutic use of everyday activities. By helping patients develop, recover, improve, and maintain the skills needed for daily living, they help restore independence and confidence to their patients.
It is important to keep in mind that the pre-occupational therapy track is not an academic major; rather, it's a suggested program of study that prepares students to apply to professional school upon completing their undergraduate degree.
Pre-occupational therapy students may choose a major in any area. Our BA Biology: Biomedical major is an excellent choice – designed to keep pre-health students on track to meet the most common requirements for a variety of graduate level health programs.  Likewise, the BA Biology degree allows pre-occupational therapy students to meet common requirements for occupational therapy programs as part of the degree requirements – creating an efficient pathway to prepare for a occupational therapy program.

Growing
Field
Employment of occupational therapists is projected to grow 17% from 2020 to 2030, much faster than the average for all occupations.

NAAHP
Member
UNI Biology is a member of the NAAHP (National Association of Advisors for Health Professions), allowing access to resources that benefit students studying in a healthcare field

Pre-OT
Club
Our department's Pre-Occupational Therapy Club provides networking opportunities, helps students with graduate school applications, and offers internship and/or job-shadowing opportunities for its members.
Learn more about Pre-Occupational Therapy & Biology
Fill out your information here to receive communication about this program.
Contact us directly at:
Department of Biology
University of Northern Iowa
144 McCollum Science Hall
Cedar Falls, IA 50614-0421
Phone: (319) 273-2010
Email: linda.reardon-lowry@uni.edu
Why study pre-occupational therapy at UNI?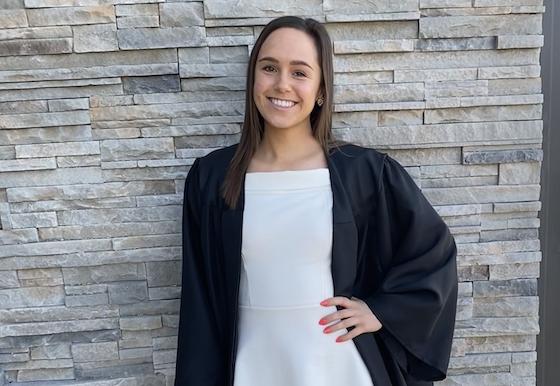 I absolutely loved my time at UNI! Every professor in the biology department that I had was more than willing to go out of their way to help me succeed. I had so many great opportunities, especially doing research in Dr. Abebe's lab! After graduation, I will be starting the Occupational Therapy Program at St. Ambrose University. 
Paige Pritts, UNI Biology graduate
Additional Pre-Occupational Therapy Information