Pre-Physician Assistant: Biology Track
With an increasing shortage of healthcare providers, physician assistants are a critical part of today's team-based healthcare approach
Physician assistants are versatile and collaborative medical professionals who diagnose illnesses, develop and manage treatment plans, prescribe medications, and often serve as a patient's principal healthcare provider.
It is important to keep in mind that the pre-physician assistant track is not an academic major; rather, it's a suggested program of study that prepares students to apply to PA programs upon completing their undergraduate degree.
Pre-PA students may choose a major in any area, though the BA Biology: Biomedical major was designed to keep pre-PA students on track to meet the most common requirements for PA programs and the topics for the MCAT. With most pre-PA courses counting toward your UNI degree, this is an efficient pathway to prepare for a PA program.
Growing
Field
Employment of physician assistants is projected to grow 31% from 2020 to 2030, much faster than the average for all occupations.
NAAHP
Member
UNI Biology is a member of the NAAHP (National Association of Advisors for Health Professions), allowing access to resources that benefit students studying in a healthcare field
Pre-PA
Club
Our department's Pre-Physician Assistant Club provides students with opportunities to learn more about the PA field, prepare for graduate school exams, network with professionals, and find support and guidance as they progress towards a career that prioritizes improving healthcare access and quality.
Learn more about Pre-Physician Assistant & Biology
Fill out your information here to receive communication about this program.
Contact us directly at:
Department of Biology
University of Northern Iowa
144 McCollum Science Hall
Cedar Falls, IA 50614-0421
Phone: (319) 273-2010
Email: linda.reardon-lowry@uni.edu
Why study pre-physician assistant at UNI?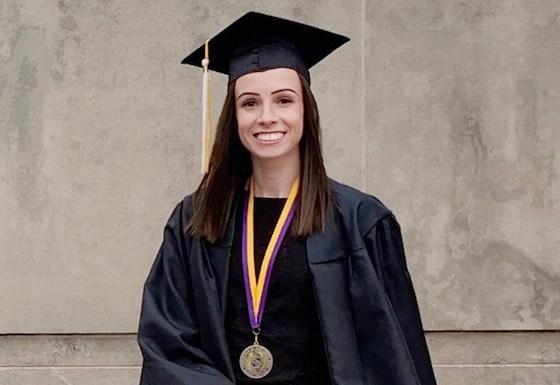 I have truly loved my time at UNI, and the courses I've taken as a biology major have been great preparation for my future. My biggest piece of advice to other students would be to get to know your professors. They really care about you and want to see you succeed, and I'm so appreciative of the support I have been shown throughout my four years. After graduation, I will begin the physician assistant program at Des Moines University.
Hannah Stein, UNI Biology graduate
Additional Pre-Physician Assistant Information